Photo Credit: Johnny Greig
The Black Traveler's Guide To Navigating Rio de Janeiro
Known for its beautiful landscapes, vibrant culture and friendly people, Rio de Janeiro is one of the cities around the world that most travelers put on their bucket list.
As the vaccination advances in Brazil, and cases reach their lowest rates since April 2020, life is somewhat returning to its pre-pandemic era. Rio de Janeiro, the most visited city in Brazil, has announced that the New Year's Eve party and Carnival, two of the city's main events, will resume in 2022.
With that, local authorities expect the reboot of tourism, a sector that was severely hit by the COVID-19 pandemic.
Sure, going to the Christ the Redeemer statue or Sugar Loaf are mandatory for those who are visiting the city for the first time. But make no mistake, Rio has much more to offer.
As you gear up for your visit to Rio, Travel Noire has prepared this guide for Black travelers who want to make the most of their time in the city.
1. Where To Stay
Copacabana 
Located in Rio's south side, Copacabana is the most convenient neighborhood in the city. It offers accommodations for all tastes and wallets. From 5-star hotels to Airbnbs, Copacabana also has many restaurants, bars and juice bars along the beach.
Copacabana is close to the downtown area, shopping malls and other main tourist spots. It is also an English-friendly neighborhood. 
Ipanema –
Copacabana's next-door neighbor, Ipanema is not as touristy as Copacabana, and for many people, this is a good thing. Just like Copacabana, Ipanema also has several hotels, but they tend to be more expensive on average.
Ipanema's beach is considered to be cleaner and calmer than Copacabana. Ipanema also has more sophisticated restaurants and bars, perfect for those who want to experience fancy places such as Satyricon and Espaço 7zero6.
Barra da Tijuca –
Barra da Tijuca is a neighborhood located on Rio's west side. The neighborhood offers a host of activities for entertainment. Barra da Tijuca has a vibrant nightlife. The neighborhood offers several bars and some of the best nightclubs in town. You can follow the local tradition of having a few drinks at the bar. The parties usually heat up around midnight and can go on until 5 or 6 in the morning. 
2. Things to See
Christ The Redeemer – On the top of the mountain is  Christ the redeemer, one of the most sought after sites of Rio de Janeiro. Considered the most famous Art Déco statue in the world, it's located at Tijuca National Park, 710 meters above the sea level.
Christ the Redeemer was elected one of the Seven Wonders of the World in 2007 by the Swiss Institution New 7 Wonders Foundation. The monument is accessible by train, van or car. The view from the top is amazing; which makes it a must-go tourist spot in the city.
Sugar Loaf –
Opened in 1912, the little tram of the Sugar Loaf is a cable car that  links the Urca hill to Sugar loaf mountain. From the top of the two mountains, you can see a gorgeous landscape of the city, including  Copacabana Beach. In the summer, the amphitheater, located in the top of Urca hill is a stage for shows and night events, joining fun and a wonderful visual of lights of the city.
Saint Sebastian Cathedral  –
The building of the Cathedral of São Sebastião, also known as the Metropolitan Cathedral, stands out among the churches of Rio de Janeiro for being very different in its architecture.
The temple has a modern style, straight and sober lines. Its conical shape shows a grandiose structure, with more than 106 meters in diameter and 75 meters in height.
Inside, you can see beautiful stained-glass windows all over the church.
It was opened in 1979 and the church's shape was inspired by an ancient Mayan pyramid. Surely, you don't have to be a religious person to admire such a beautiful place.
Favela Tours –
While the beaches and festivals are what often attract tourists, the favelas (Afro-Brazilian communities that have sprouted on the hillsides) are also a great experience. But instead of shooing outsiders away from these poorer fringes, government officials in recent years have encouraged trips there.
Sponsored tours carry curious travelers to some favelas considered safe, where you can meet the locals and learn more about their culture. One of the most visited favelas is Favela do Vidigal. Due to its location and breathtaking view from the top, Favela do Vidigal is a must-see attraction.
Little Africa
Located in Rio's downtown, Little Africa was once the first dwelling of the Africans that arrived in Rio de Janeiro and their descendants. Nowadays, the area is occupied by communities that originated from former enslaved Black people settlements. In the area, cultural activities are all part of an effort to recover and enrich the history and the culture of Rio de Janeiro.
A must-see place in Little Africa is the cemetery of enslaved Africans in Brazil has been discovered and turned into a museum – Museum of Pretos Novos Cemetery.
Visiting Olympic Boulevard -Located in Rio de Janeiro's downtown area, the Olympic Boulevard is where you will find Eduardo Kobra's breathtaking mural titled Etnias, a 32,300-square-foot graffiti wall that goes beyond what is considered street art. The world's largest graffiti wall is a sight to see not only because of its size, but also because of its vibrant colors and impressive sense of proportion.
The work portrays a Mursi woman from Ethiopia, a Kayin woman from Thailand, a Native Brazilian, a Supi man from Northern Europe, and a Huli man from Papua New Guinea.
3. What To Do
Partying In Samba Schools 
Samba schools are composed of different neighborhood representatives, each of them coming from tiny towns or 'favelas.' The schools have two practical purposes: they emphasize the importance of the Brazilian culture to the world and provide local members with good employment opportunities.
Every year, they meet in a parade to compete against each other to see who was the best samba school of the year. The parade is considered one of the most spectacular events in the world.
Travelers can enjoy Samba school rehearsals, which work as a warm-up party for their members, fans and tourists. There, you will be able to listen to Samba music, see professional dancers and learn more about this Afro-Brazilian tradition. 
The rehearsals start in August. In December the rehearsals heat up and take place even on weekends.  You can join them for free, but you will not be able to see them in their extravagant clothing before the Carnival.
Soccer Mathces in Maracanã Stadium –
Soccer is the most popular sport in Brazil. When Brazil plays in the World Cup, the whole country screeches to a halt as everyone is gathered around their televisions sets watching the matches.
After being suspended for more than one year because of the pandemic, the soccer matches are back, and it is a very impressive to experience the passion that Brazilians have for soccer.
Partying in Madureira –
Madureira – As Travel Noire reported, Madureira is considered the Black culture hub of Rio de Janeiro. It's a neighborhood where 70% percent of its residents are of African descent. There, Afro-Brazilian culture is powerful and thrives. When walking through, it is easy to pop up on Black parties happening in clubs in the area.
Madureira is the place where Hip-Hop and R&B culture is celebrated by the local millennials.  Casa Black is one of the hottest clubs in Madureira.
Enjoying Lapa, Rio's Night District –
With bars, nightclubs and restaurants surrounding the streets of this historic neighborhood, Lapa offers a variety of options for all tastes. The region has become increasingly touristy, which for some makes it lose its old-world charm, but for many it is a great place to enjoy the nightlife after spending a day visiting other touristic places in Rio.
4. What To Eat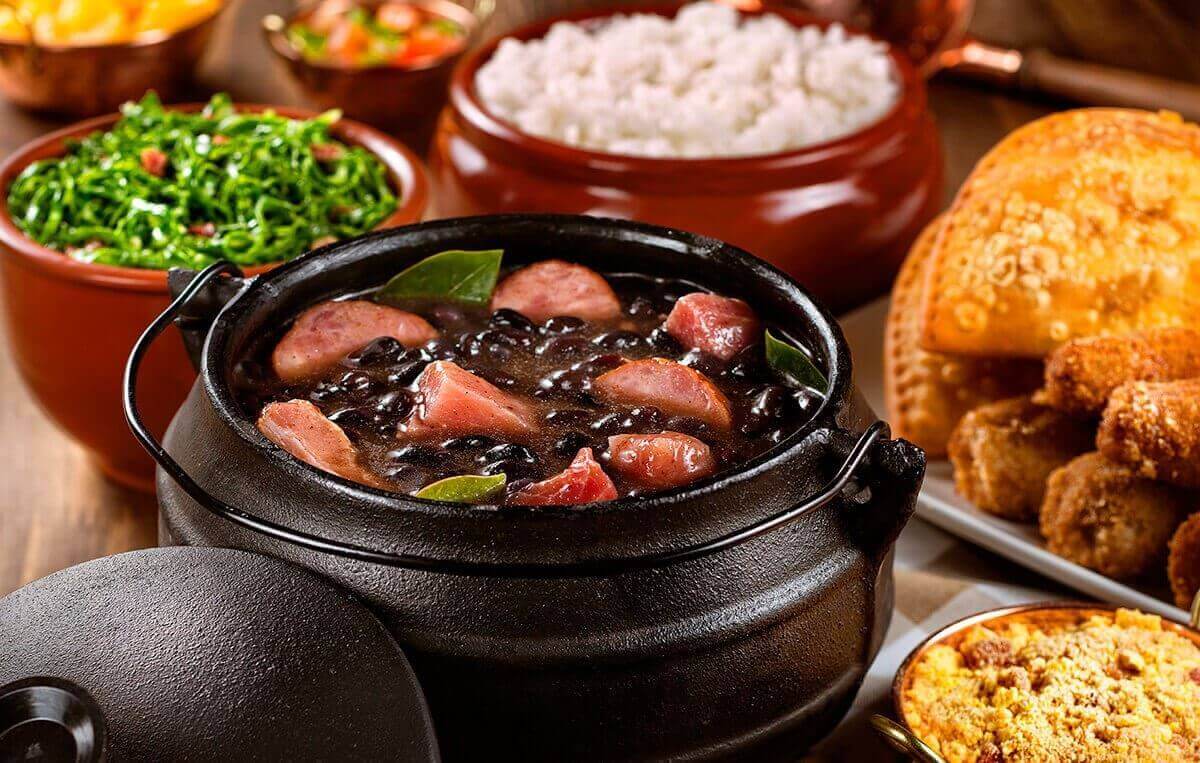 In many restaurants in Rio, you can experience a mixture of flavors and history. Most dishes highly influenced by West African roots. Rio de Janeiro has a vibrant culture, and the best way to experience this is to taste  its authentic cuisine. 
Feijoada (a stew of black or brown beans with beef and pork), acarajé (made of ground-black eyed peas with ingredients such as onions and pepper shaped into fritters and deep-fried in dendê oil), and shrimp bobó (dish of shrimp in a purée of manioc (or cassava) meal with coconut milk, herbs, ginger) among others, represent the popular Afro-Brazilian dishes that can be found in many Black Brazilian restaurants.  Click here to see the best restaurants in Rio.
5. Other Tips
Moving around – If you stay in Copacabana, you can move around the city by Uber. Due to its location, Uber is very affordable to many places in the city.
Hiring a Tour Guide – The city is not considered an English-friendly place. Hiring a tour guide will help you to overcome the language barriers and avoid traps.
Dress casual – Cariocas (people who were born in Rio) are very casual. They wear flip-flops and shorts in most places, even in the churches. So, you don't need to wear very formal clothes to go around the city.
Inside Rohan Marley's Healing Mexico Beach Club, RoMarley Beach House
Travel Noire