Photo Credit: Kenya, Laikipia, Ol Pejeta Conservancy, Sanctuary Tambarare
Meet 5 New Luxury Hotels And Lodges In Africa Opened In 2022
Africa is home to some of the most impressive wildlife, landscapes and nature. However, the continent also offers many luxury hotels and lodges. These properties have outstanding customer service, majestic settings, and easy access – making them the choice for those planning a visit to the stunning continent and its countrysides.
Travel Noire has listed five new luxury hotels and lodges in Africa that opened between 2021 and 2022 for those who love top-notched hospitality services. Enjoy the list:
1. Hilton Maldives Amingiri Resort & Spa – Malé, Maldives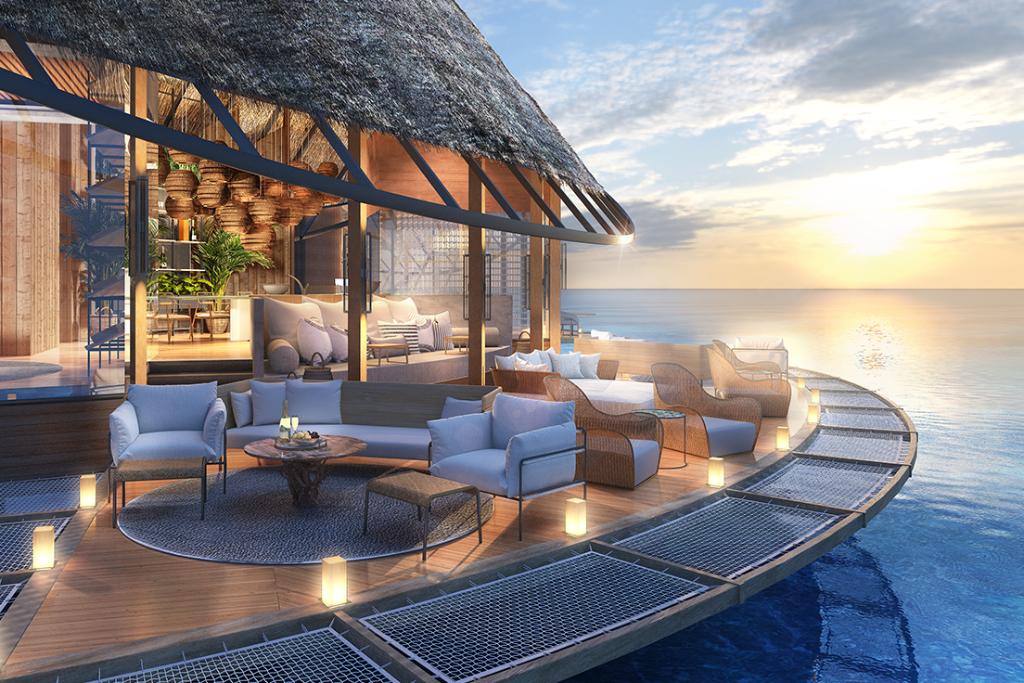 Opened this year, Hilton has debuted in the Maldives,  one of the world's favorite vacation destinations. The hotel is located on an island in the North Malé Atoll, offering guests 109 beaches and overwater villas.
Accessible via a scenic speedboat ride, Hilton Maldives Amingiri Resort & Spa provides a private pool for each of its villas, with breathtaking views of its turquoise waters.
Each pool features stairs directly into the island's lagoon, and bathtubs face the ocean.
The resort also features a spa for an extensive choice of treatments, an on-site cocktail lab, and a restaurant for fine cuisine and sustainable seafood sourcing.
2. Farmhouse58 – Johannesburg, South Africa
Located in the Cradle of Humankind, Farmhouse58 is a luxury hotel that combines breathtaking nature with a focus on the local community. Locals worked to upskill its interiors with locally featuring artwork from the area where the hotel was built.
The hotel offers its guests silent zones, a meditative writing room and a library.
Outdoor activities are also available.  With local guided hikes, regenerative farming sessions with the resident farmer and a scent workshop with a local perfumer, Farmhouse 58 is a new option in South Africa for those who love luxury hotels.
3. Sanctuary Tambarare, Kenya
Opened in June 2022,  Sanctuary Tambarare is nestled amongst fever trees in the shadow of Mount Kenya in the 90,000-acre Ol Pejeta Conservancy.
With ten ample tent accommodations, Sanctuary Tambarare is a wildlife retreat that offers the perfect combination of nature and tranquility.
Each luxurious tent has its own private veranda, with astonishing views of the outdoors. Guests can spend their days watching lions, elephants and gazelles; Also, they can enjoy the sunset and rest in the main tent, with welcoming soft lighting, wood-carved furniture and vibrant furnishings in Masai-inspired blue tones.
4. Khwai Leadwood, Botswana
Located in the famous Okavango Delta, Khwai Leadwood offers incredible wildlife sightings from the lodge.
It features luxurious accommodations that offer guests views of Botswana outdoors and a wide range of safari activities that amaze the guests.
5. Park Hyatt Marrakech, Morocco
Scheduled to open by the end of the year, the Park Hyatt Marrakech will be the first Park Hyatt in Morocco.
The Park Hyatt Marrakech is located within the Al Maaden development, about a 25-minute drive from Marrakech Airport
The new resort will have 181 rooms and suites in a dramatic setting, with views of the golf course and the Atlas Mountains. Guest rooms are grouped in clusters, around a common courtyard, with each accommodation entered via a private interior courtyard with a water feature.
Additionally, 45 Park Hyatt Marrakech private villas will each have a living room, dining room, fireplace and private pool.
The resort is adorned with formal and private gardens, secret spaces, and unique design features.
There will be two swimming pools: a pool that connects to the main restaurant, and a formal pool with an infinity edge that overlooks an 18-hole golf course.
Additional amenities include a speciality restaurant and spa.
Fun Diggity
Travel Noire, Food, Cooking, Savor