Photo Credit: Apple Newsroom
Apple Celebrates Black History Month With New Black Unity Collection And Content
Apple celebrates Black History Month by releasing special content and tailored launches that celebrate Black culture and community. Customers may express their support by purchasing this year's Black Unity Collection, which includes a limited-edition Apple Watch Black Unity Sport Loop, as well as a new matching watch face and iPhone wallpaper.
Beginning in February, all-new activations will be accessible to explore, including a series of Apple Maps guides developed by the Smithsonian, TV and film collections curated by Dr. Jelani Cobb and more.
Apple Watch and iPhone
Members of Apple's Black creative community and allies collaborated to create new expressions inspired by the creative process of mosaic, reflecting the vitality of Black communities and the power of unity.
The word "Unity" is woven abstractly into the band using red, green, and black yarns that pay respect to the Pan-African flag, while a unique layering of yarns gives the letters a feeling of three-dimensionality.
Additionally, the Unity Mosaic watch face combines geometric designs in green, black, red, and yellow. When the minutes change, each number morphs into different forms by using bits of other numbers. iPhone owners may also express their support by using the new Unity Lock Screen wallpaper.
The Store
The App Store will highlight apps and games that are developing innovative solutions for Black communities in categories like music, banking and gaming. Among these applications and games include Dot's Home, a 2022 App Store Award-winning game aimed to educate players about housing inequality in communities of minority, and financial wellness apps like Goalsetter, Altro, and CapWay, which provide financial tools to the community.
The App Store will also celebrate 50 years of hip-hop culture by highlighting a variety of apps that allow users to listen to, watch, and learn about the significance of this creative movement in the past and today. From streaming and discovery apps to interactive lessons, users will be able to explore the long and rich history of hip-hop music and culture.
Apple TV App
Viewers may discover programs and films handpicked by Dr. Jelani Cobb, dean of the Columbia University School of Journalism and a staff writer at The New Yorker, via the Apple TV app.
This year's collections are themed "The Matter of Black Lives," with stories concentrating on three distinct pillars: "Freedom in Black," "Love in Spite of," and "The Mosaic."
Podcasts and Maps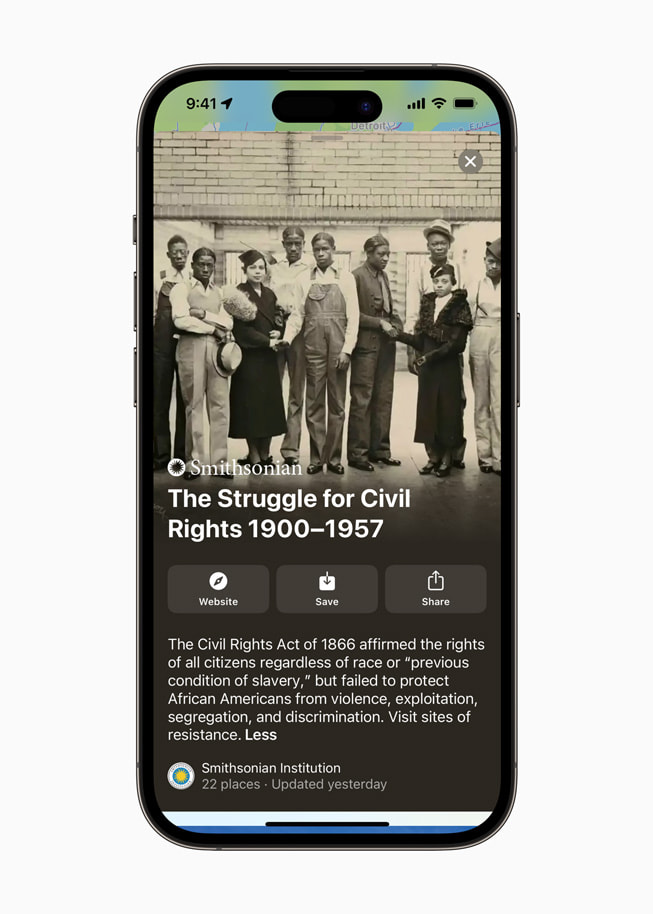 Listeners open Apple Podcasts every day to hear from the world's most inspiring and influential voices. Each year, Apple's Black History Month collections let listeners discover producers who provide critical historical background as well as interesting insights on news and society.
Apple Podcasts will include episodes from producers Bridget Todd, Bob the Drag Queen, Monét X Change, and Apple Music's Ebro Darden that exemplify the omnipresence of Blackness – the ways that Black music, culture, venues, and philosophy positively affect our view of the world and one another.
These podcasts are essential to developing our understanding of the experiences of Black people in the United States and around the world.
Listeners will also have access to a curated list of podcast suggestions compiled by Black disruptors — visionaries in their professions who challenge the status quo to promote beautiful art and innovation — such as environmental activist Leah Thomas.
The list will include thought-provoking, informative, and entertaining podcasts on topics ranging from history to education, health, and the arts.
The Smithsonian published a series of Guides in Apple Maps to highlight major places in the century-long civil rights battle (1900-1957, 1960-1978, 1980-2020). Users can use the Guides to learn more about the historical events, people, and locations that have influenced the country.
Meals By Genet
Travel Noire, Food, Cooking, Savor